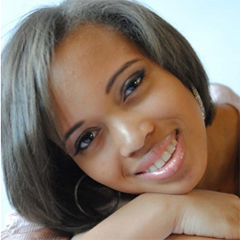 Dallas Chapter LOT, 2008-2012
Occupation: "Possibly as a marketing manager or owning my own consulting business."
Education: Currently at Syracuse University, with a double major in marketing and advertising
Best Memory: "My best moment was when I was elected LOT® National President and CEO in Atlanta."
LOT® Accomplishments: "When my team won first-place with the Case Competition for the first time, because we had lost the year before that. And because I had been so shy before, it was just amazing for me to see how I could get up and give a presentation to a board of judges and do it in front of the whole student body present."
Dream Job: "Marketing manager or owning my own consulting business."
Four years ago, Kristen Brown's shyness would have kept her from meeting other people, and doing certain activities. Working with the LOT® program in Dallas changed all of that.
Now she looks forward to making make new connections and seeking out challenges once unimaginable. She boosted her confidence by developing her public speaking and networking skills through numerous workshops, leadership activities and other opportunities.
"LOT® helped me to understand it is a lot of fun to get out of your comfort zone sometimes and be open to new experiences. Initially, I wasn't interested in the program because I was a very shy person. My mom almost forced me to be in the program. In doing so, I learned to be okay with going into something and not feeling comfortable, but being open-minded. I think that is the key to moving forward in college."
The impact of LOT® on her life was so great that she decided last year to compete for a newly created position: LOT® National President and CEO. She wrote an essay and submitted her résumé. Brown traveled to the national conference in Atlanta last fall for the election.
"We all had to give a speech and all of the chapters had to vote on a president," she says, still amazed when she recalls that special moment and how far she has grown. "Four years ago I couldn't speak in front of people and then I was being elected by my own organization to be the president, so [the conference] was pretty cool."
Her responsibilities include representing the entire national student body, which includes about 800 members. National officers try to come up with ideas to make the organization more innovative. One exciting development was a student-led community service project that involved all of the chapters.