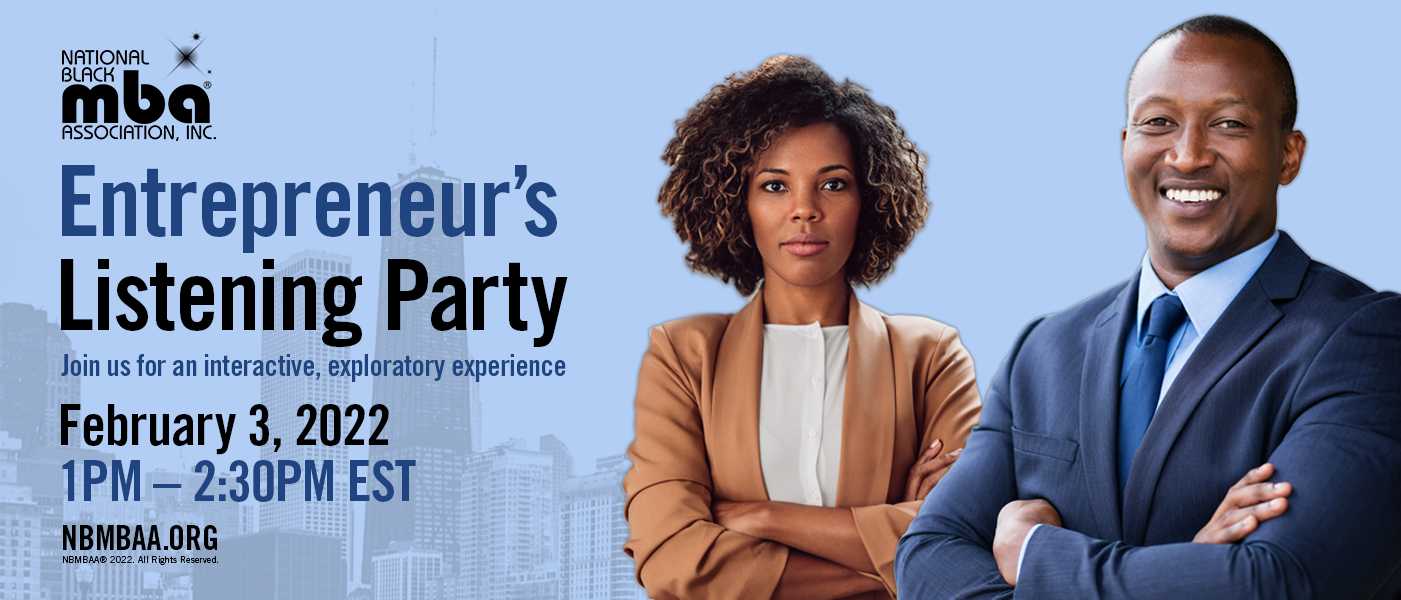 The National Black MBA Association® provides impactful learning experiences that enhance members professional, financial and educational growth. This robust year-round program opportunities will consist of subject matter experts, chapter collaborations and board members. Programming will take place on a monthly basis via Facebook Live, LinkedIn Live or Zoom.  See details below and register.
Entrepreneurs Listening Party
Feb 3, 2022
01:00 PM in Eastern Time (US and Canada)
Looking to take your business to the next level, network with fellow entrepreneurs and hear from subject matter experts! This event will give entrepreneurs the opportunity to engage and share ideas and experiences with each other. Attendees will break out into breakrooms where subject matter experts will lead discussions in areas around:
• Fundraising
• Marketing & Sales
• Operations (Scaling & Gaining, Contracts, Business Law)
• Finance Accounting/Business Model
• Coaching & Mentoring/Time Management
Financial Technology Panel – Key Bank and Wells Fargo
Jan 12, 2022
06:00 PM in Eastern Time (US and Canada)
The ability to create financial security requires a strong holistic understanding of financial literacy. Financial literacy is described as the foundation of one's relationship with money, including knowledge in budgeting, investing, and personal financial management. These days, finance and technology go hand in hand. This intersection can be seen in banking, where operations have changed from cashless to paperless and are going seamless. The market for investing is becoming more accessible to individuals and the rise of fintech apps work to lessen the racial wealth gap. This panel discussion will review the ins and outs of financial technology and provide insight on how to execute your financial wellness plan using fintech as a means of income. Also, Key Bank and Wells Fargo panelists will discuss how becoming proficient with financial tech can result in an increase in generational wealth.