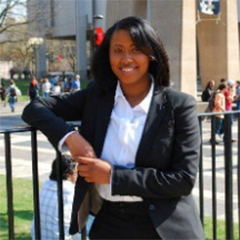 LOT® Chapter: Philadelphia, 2005-2007
Occupation: Executive Director, City of Philadelphia Youth Commission Education: Bachelor's degree in International Business and Legal Studies, Temple University Best Memories: "I delivered the Keynote Address at the LOT® National Business Case Competition in Florida. I was asked to serve as a mentor for the NBMBAA® Conference in Atlanta to assist with the LOT® portion of the conference." LOT®
Accomplishments: "Using the skills I've obtained through the course of my LOT® experience to effectively advocate for the people I represent."
Dream Job: "I don't have a dream job, but rather a dream mission. I want to make sure that every person has the tools they need to be successful. No one should have to experience the same adversities that I did as a young person, and if I can eliminate that for one person, then I know I've done my job."
Jamira Burley credits the "life-changing" LOT® program with her appointment as the executive director of the Philadelphia Youth Commission four days after graduating from Temple University in May.
"LOT® really laid the kind of foundation for me to continue the work I do now because it gave me critical thinking skills that I had not previously learned," says Burley, a longtime activist against youth violence and the youngest executive director of any Philadelphia city agency.
"It also helped intensify my leadership ability in the work I do now. It even gave me the confidence I needed to major in international business in college," said Burley, the first of 16 siblings to graduate from high school and college.
Burley joined the Philadelphia LOT® program as a high school sophomore in 2005. It was a turbulent time. Devastated by the murder of her brother, Andre, she moved in with an aunt who forced her to join LOT® after hearing glowing reviews.
"It completely changed my life, and I am not saying that to be dramatic," Burley says. "It was a collaboration of what the program had to offer in regards of the curriculum, but also the mentors and the colleagues I was able to establish relationships with during the course of three and a half years. LOT® taught her how to conduct an interview, create a business plan and fill out college applications. Cooke, her LOT® mentor, also became a father figure.
Burley participated in the LOT® National Business Case Competition, which requires teams to analyze a graduate level business case. She also attended the LOT® leadership camp at Disneyworld, where she met peers from London and Africa. The camp enabled her to "get an international perspective from young people who looked like me. You get a different perspective than your four block radius," she says.
For Burley, LOT® "was the first experience in leadership. It spearheaded a lot of the work I became more passionate about and it gave me the confidence that I need to get more engaged and more involved." Burley has served as a board member for numerous national and international non-profit organizations.
She previously served as the national coordinator for the Student Peace Alliance in Washington, D.C., and worked as the Student Leadership Coordinator for the School District of Philadelphia, where she implemented student government councils in all 63 public high schools, among other leadership positions.
She now leads the city's Youth Commission, a panel of 21 Philadelphians between the ages of 12 and 23 appointed by the mayor and City Council. The panel offers recommendations and advice on legislation and policies that affect youth and young adults.
"We make sure there are resources provided to make sure young persons in Philadelphia can become successful and engaged citizens. My job is to make sure young people are always at the forefront of issues that impact their generation."