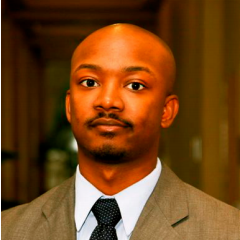 Ian Bridges, LOT® Luminary
Detroit LOT® Chapter, 2006-2008
Occupation: Teach for America educator, Detroit
Education: Bachelor's in Business Administration, Magna Cum Laude, Morehouse College, 2012
Best Memories: Case Competition participant during summer 2007, meeting mentor Dimitrius Hutcherson at the 2007 national conference, being acknowledged by local LOT® chapter for receiving Morehouse College academic scholarship LOT® Accomplishments: Case Competition participant in 2007, NBMBAA® Lot scholarship recipient, 2007
Dream Job: National urban education advocate
Ian Bridges will mold young minds as a new elementary school teacher this fall. He credits LOT® for influencing him to make a difference in the lives of students of color.
"The examples I want to set for my students were set for me through programs like LOT®," says Bridges. "I was exposed to the need for successful Black males in education. The people leading the programs did not sugar coat things, they told us 'the system doesn't expect you as a Black male to do these things, but we do.'"®
Once, while catching a flight to a case competition, team members were asked if they were athletes, he recalls. "We were like, 'No, we are a case competition team and we came to show our academic abilities.'"
He is grateful that LOT® educated him about the leadership void for empowering urban communities "and gave me the tools necessary to work toward filling that void. I realize I can't do it alone, but I can start that movement to change our community. Knowing there were people willing to invest time, energy and confidence in me… it gave me the desire to do the same," Bridges says.
In preparation for his first year of teaching, Bridges taught an African-American history class to high school students last summer in Philadelphia. He told students at the high-need school that his classroom was a no-nonsense setting and that he had high expectations. He modeled his teaching style after his mentor, Anthony Moffett, the LOT® Director in Detroit.
Initially, the students, who were in his class for failing the course earlier in the school year, pushed back. Bridges stood firm. "What I asked students to do, they were expected to do, and there was no wavering. They eventually rose to the occasion." At the end of the class, students shared positive feedback and he was surprised by the comments. "A lot of times I thought what I told them went in one ear and out the other, but I was surprised by how much it resonated."