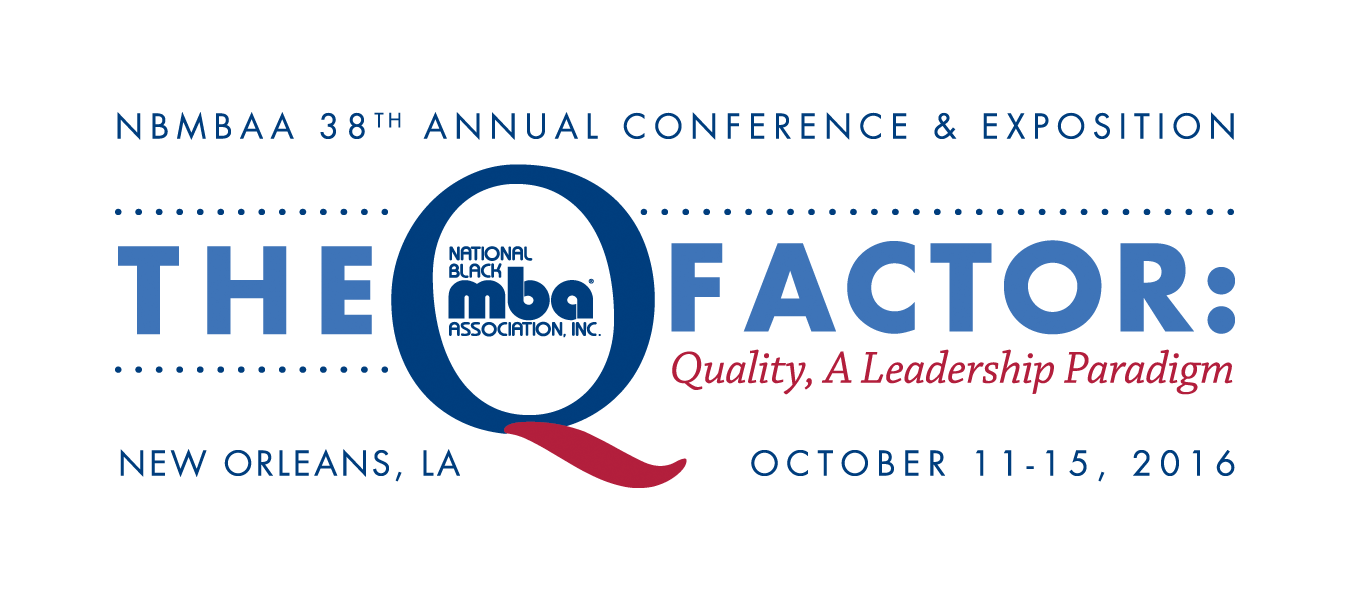 The Q Factor: The Quality Paradigm – What's the one word synonymous with IT factor in leadership? Undoubtedly, it's Quality. There is no substitute for this key performance indicator. All things equal, quality is often the determinant for competitive advantage. As a building block of leadership, quality leadership is contagious leadership. It Inspires. It Disrupts. It Transforms. Through the value chain of governance, business solutions, talent management, processes and transformation; leaders that drive, embody and account with quality, win. Do you have the IT factor?
Honorary Co-chairs
Dr. Roslyn C. Artis, President, Florida Memorial University
Dr. Walter M. Kimbrough, President, Dillard University
Marc H. Morial, President & CEO, National Urban League
Charles L. Rice, Jr., President & CEO, Entergy New Orleans
Jimmie M. Woods, Sr., Co-Founder & CEO, Metro Service Group, Inc.
Speakers
Gina F. Adams, Senior Vice President for Government Affairs, FedEx
Jocelyn Delk Adams, Founder, Grandbaby Cakes
Laila Ali, Boxing Champion, TV Host, Cooking Enthusiast, Actress, Author, Speaker
Tim Atwell, Senior Vice President, Data Operations Executive, Bank of America
Michelle A. Avan, Director, Southwest Division Administrative Manager Global Wealth Investment Management (GWIM), Merrill Lynch
Jerome Bettis, NFL Hall of Famer
Cheryl L. Bevelle-Orange Director, Information Technology, FedEx Services
Michelle A. Avan, Director, Southwest Division Administrative Manager Global Wealth Investment Management (GWIM), Merrill Lynch
Jerome Bettis, NFL Hall of Famer
Cheryl L. Bevelle-Orange Director, Information Technology, FedEx Services
Walter Bond, CEO, Walter Bond Worldwide Inc.
John Brown, Managing Director – External Investments, MassMutual
James Burnette, Director, Global Sales Development
Cassius Butts, Regional Administrator, U.S. Small Business Administration
Chris Carr, Executive Vice President, Starbucks
Troy Carter, Founder, Chairman and CEO, Atom Factory
Maurice Coleman, Commercial Real Estate Banking – CDB, Senior Vice President/Sr. Relationship Manager, Bank of America
Donald Comer, Director, Digital Access Marketing, FedEx
Wayne Davis, Senior Vice President, Human Resources, Technology + Product, Comcast
Marie Denee, The Curvy Fashionista
Charles Divins, Anchorperson, WDSU News
Tracy Dumas, Associate Professor, Management & Human Resources, The Ohio State University, Fisher College of Business
Ron Edwards, Assistant Vice President of Early and Mid-Career Strategy, MassMutual
Jide Ehimika, Co-Founder, Strategy and Operations, Noirbnb
Sonja Fields, R&D Manager – Specialty Products, Georgia-Pacific
Brian Files, Director, Inventory Management, CVS Health
Apoorva N. Gandhi, Vice President, Multi-Cultural Affairs, Marriott International, Inc.
Stefan Grant, Founder & CEO, Noirbnb
Mary Grate-Pyos, MBA, Author & President, Financially Focused, Inc.
Dawn-Marie Gray, Director, Director, Strategic Diversity Management, CVS Health
Jeffery B. Greer, Senior Vice President of Human Resources, FedEx
Erik Hawkins, Director of Global Product Marketing, Facebook
Dr. Corey Hebert, Physician and Television/Radio Talk Show Host
Desmond Howard, Commentator, College Football Analyst, ESPN
Tiffany Hunt, Vice President, Operational Excellence, Business Transformation Office, Nationwide
Matt Idema VP, Monetization Product Marketing, Facebook
Lara James, Vice President, Marketing and Brand Strategy, MassMutual
Terrence "J" Jenkins, Actor, Philanthropist and Author
Keith Jernigan, Strategic Sourcing Director, Georgia-Pacific
Shonda Johnson, Area General Manager, Detroit Marriott at the Renaissance
Ramon Jones, Senior Vice President P&C Business and Personal Solutions Marketing, Property & Casualty (P&C)
Dr. Avis Jones-DeWeever, President of Incite Unlimited, Career Reinvention Strategist, Author, International Speaker, and Diversity Consultant
Jason King, Owner, Frencheeze Food Truck
Sena Kwawu, Senior Vice President, Supply Chain and Shared Services, Starbucks
Stephanie Lampkin, CEO, Blendoor
Tamica Lee, Traffic Reporter, WWL-TV
Mickell Lowery, District Sales Manager, FedEx
Winston Maharaj, Managing Director and Deputy General Auditor, DTCC
Andréa McBride, Co-Creator, McBride Sisters Premium Wine
Robin McBride, Co-Creator, McBride Sisters Premium Wine
Lauren McCadney, Director, Marketing Delivery
Dr. Frederick McKinney, Managing Director of Minority Business Programs, Tuck Executive Education at Dartmouth
Michael McNeil, Global Product Security & Services Officer, Royal Philips
Shane Meeker, Corporate Storyteller, storyMYTHOS LLC
Candace Mitchell, Cofounder and CEO, Techturized Inc.
Kaplan Mobray, Author, Motivation Speaker, Career Consultant, Founder of the Kaplan Mobray Leadership Institute
Everett Moore, Area Vice President, CVS Pharmacy
Gerard E. Morisseau Internal Audit Director, Microsoft Cybersecurity, Microsoft IT, Retail Stores, and Application Services Group (ASG)
Tom Onken, Senior Vice President Select Service and Extended Stay Lodging, Marriott International, Inc.
Hitendra Patel, Ph.D. Managing Director, IXL Center Innovation Thought Leader, Global Speaker & Professor of Innovation
Christie L. Patterson, Director, Lodging Development – Select Service & Extended Stay Brands, Marriott International, Inc.
Sean Penn, Vice President of Sales, Diageo North America
Council Powell, District Manager & Emerging Leader, CVS Pharmacy
Michael Quigley, Senior Vice President of Brand Distribution, Turner Network Sales
Kathryne Gambrell Reeves, Senior Vice President, Enterprise Marketing, Cardinal Health
Bakari Sellers, Former Member of the South Carolina House of Representatives & Attorney, Strom Law Firm, LLC
Terrilynn Million Short, Vice President and General Manager, Marley Engineered Products
John Shumate, Director, WATER + Strategy & Innovation, PepsiCo
Selin Song, Managing Director, Global GMS (Google Marketing Solutions) Revenue Strategy & Operations
Linda Spearman-Scott, SVP Bank of America Human Resources Executive, Global Human Resources Enterprise
Chris Spencer, Entertainer
Ayanna Stephens, Senior Vice President, Talent Acquisition Strategic Initiatives and Specialized Sourcing Executive, Bank of America
Scott Steward, Founder, Project Tech Teens
Brooke Story, Vice President, MDT Restorative Therapies Group Marketing Medtronic PLC
Claire Sulmers, Entrepreneur & Founder, The Fashion Bomb Daily
Sherice Torres, Marketing Director, Google Express
Floyd Trotman III, Founder and Managing Partner of CertifiNOW™, MBA, MS/MoIS, PMP
Emmett T. Vaughn Director, Office of Diverse Business Empowerment, Exelon
Aaron Walker, CEO, Camelback Ventures
Charmaine Ward, Senior Director of Community Affairs, Georgia-Pacific
Tina Wells, CEO & Founder, Buzz Marketing Group
Alexandra Wheeler, Vice President, Global Digital Marketing, Starbucks
Charece Williams, Senior Marketing Manager, National Portfolio Promotions, PepsiCo
Cherilyn Williams, Director, Portfolio Marketing Strategy and Planning, Marriott International
Courtney Williams, Chief Executive Officer,Torsh Inc.
Terrance Williams, Executive Vice President, Chief Marketing Officer, Nationwide
Rob Wilson, RobWilsonTV
Tai Wingfield, Senior Vice President of Communications, Hewlett Consulting Partners
Robert Woolridge, General Manager, Marriott International, Incorporated
Lu Yarbrough III, Associate Vice President, Enterprise Diverse Marketing, Nationwide
Benjamin Young, CEO, Sworkit by Nexercise, Inc.
Jenny Yum, Vice President – Service Delivery Consultant Global Human Resources Employee Relations and Life Events Services Integrated Operations, Bank of America
Programming Highlights
Backyard Veaux – Served Up By Lipton
Career Expo: All Access
Career Expo: Members Only
CertifiNOW PMP®/CAPM® Prep Course
Entrepreneurial Institute Afternoon Sessions: Can You Swim with the Sharks? Do You Really Want To? Learn How to Navigate the Waters of Investment Funding
Entrepreneurial Institute Afternoon Sessions: Is There an App for That? How to Monetize Your Idea for a Mobile App
Entrepreneurial Institute Morning Sessions: Putting your Business on Blast! #share #build #grow. How to Use Social Media to grow your brand and Business
Entrepreneurial Institute Morning Sessions: Show Me the Money: Learn How to Fund Your Business or Non-profit with Other People's Money
Entrepreneurial Institutes Closing Ceremony Powered by Ford
Hackathon Competition (Sponsored by State Farm )
Hospitality Receptions
Innovation Whiteboard Challenge
Leadership Institute Keynote Breakfast
Leadership Institute Keynote Luncheon
Leadership Institute Morning Sessions: Negotiating Deals, Identity and Respect
Leadership Institute Morning Sessions: Sparking My Innovation
Leadership Institute Morning Sessions: storyMYTHOS – Storytelling for Brands, Business and You
Leadership Institute Reception
Like a Boss: Are You the Leader You Want to Work For? (Presented by Bank of America & DTCC)
Marketing Summit – Meet the Innovators (Presented by Marriott International, Georgia-Pacific, Pepsico and Royal Philips)
Marketing Summit – A Crash Course in Analytics
Marketing Summit – Putting It All Together: 5 Ways to Use Yor Millennial Knowledge
Marketing Summit – The ROI Conundrum
Marriott Ownership Session: Investment and Ownership Opportunities in the Hotel Industry
MBA Live®!
Meet the Experts Session: Sustainability: Building a Career through Transformation (Presented by Northwestern Mutual)
Meet the Experts Sessions: Black Professionals: Your Heritage as a Career Asset (Presented by MassMutual)
Meet the Experts Sessions: Imagine. Innovate. IGNITE! Take Your Brand to NEXT (Presented by Nationwide)
Meet the Experts Sessions: Master the Art of Career Ascension with Dr. Avis Jones-DeWeever (Presented by CVS Health)
Meet the Experts Sessions: The Elephant in the Room: Courageous Yet Uncomfortable Conversations (Presented by Bank of America)
NBMBAA Career Success Network® Center
NBMBAA® Impact Awards (Sponsored by FedEx and FCA)
NBMBAA® Membership Meeting
NBMBAA® Takes On…Diversity in the Tech Industry (Presented by Comcast NBCUniversal, LinkedIn, and Microsoft)
NBMBAA® Welcome Reception: Rep Your School (Co-Sponsored by Comcast NBCUniversal)
Setting Up Your Business for Success
The Courage to Lead: Executive Lessons for Living and Leading with Integrity
Thursday Keynote Luncheon (Presented by Nationwide)
Why MBAs Should Consider Project Management Certification
Thanks to Our Corporate Partners
American Airlines
ATT
Bank of America
BASF
Cardinal Health
Chick-Fil-A
Comcast Universal
CVS Health
Dell
Diageo
Direct Energy
DTCC
ExxonMobil
Facebook
FDIC
FedEx
FCA
Ford
GSK
Hershey
The Home Depot
International Paper
Linkedin
Lowe's
Madam CJ Walker Beauty Culture
Marriott
MassMutual
Medtronic
Microsoft
Nationwide
Northwestern Mutual
PepsiCo
Starbucks
State Farm
University of Florida MBA Warrington College of Business